Nina Ejona Lamaj (born April 4, 1993) is an Albanian female currently residing in Los Santos and is mostly known for her reputation as a party girl alongside her close friend Ayda Sezer.
Early life
Edit
Lamaj, an only child, was born in Tirana, Albania to Blerim and Ejona (née Bogdani) Lamaj, on April 4th 1993. At the age of five, Lamaj immigrated with her parents to Los Santos, San Andreas. Due to her strict and Christian upbringing, Lamaj was often restricted by her parents, causing her to develop a rebellious trait during her childhood.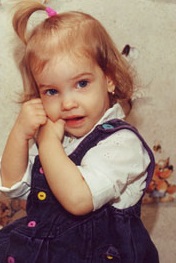 Education
Edit
After home-schooling for two years and quickly learning the English language, Lamaj was enrolled into mainstream education. Known for her stubbornness and carelessness, Lamaj was resented by her peers during her time at Elementary School. After failing every class, Lamaj eventually progressed onto Los Santos High School, where she met now life-long best friend, Ayda Sezer on the first day of enrollment. Lamaj also met Naomi Hayes, Taylor Flores and Isla Douglas during her time there. Due to behavior issues and failing grades, Lamaj was forced to drop out of school and moved out of her parent's house at the age of 17.
Due to her innate distrust of the opposite sex, Lamaj never committed herself to relationships during her teenage years.
Adult Life
Edit
After cutting all contact with her parents, Lamaj has since struggled with drug addictions and an expensive party lifestyle, often accompanied by Sezer. During this time, Lamaj was taken in by Sezer and her brother Murat Sezer.
Due to the relationship between the Sezer siblings deteriorating and after managing to survive solely on state benefits, Lamaj and her previous high school classmates, Hayes and Flores purchased Hampton Barns in Montgomery. The group settled and lived at the Barns for four years until Hayes' untimely death in April 2014.
In March 2014, Nabil Zaafaran and Lamaj began exchanging messages on the popular Los Santos based social network, Linkbook. Following several dates, an on-off romantic relationship began between the pair.
During April 2014, Lamaj's first cousins Cedrik and Frederik Myrtaj visited with the intent of establishing a life in Los Santos. Following a series of events, Cedrik was intentionally shot through the arm with a crossbow by Douglas. This caused tension between the two groups, ending in Cedrik's murder by the Italian community of Los Santos.
At the end of June 2014, Lamaj fatally overdosed on cocaine in her home in Glen Park.